The newest release of arivis Visision4D continues to raise the bar for advanced visualization and analysis solutions for image-based scientific research. Version 3.5 of the industry-leading platform for scientific imaging, released in August 2021, features various new features, upgrades and improvements across the board that make the software more efficient and more powerful for experienced users as well as more accessible for new users.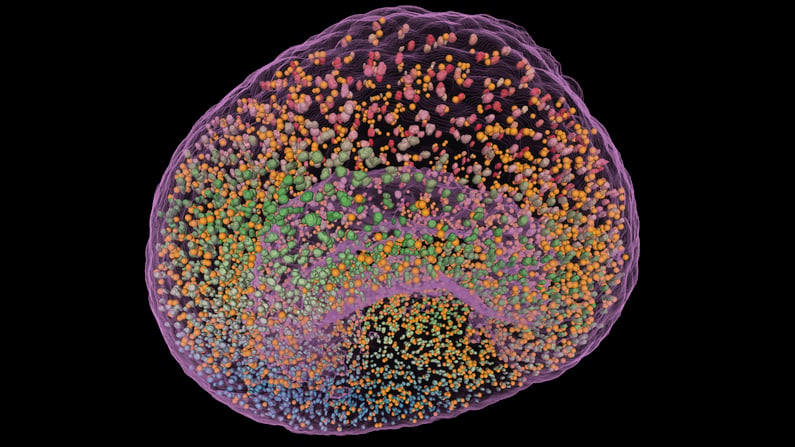 Single-channel light-sheet fluorescence microscopy (LSFM) of a 2-day lamprey embryo, kindly provided by Cody Saraceno and Jeremiah J. Smith, University of Kentucky, imaged with ZEISS Lightsheet Z1.​ Segmentation of all green fluorescent objects includes Nuclei, Micronuclei, and Debris.​ Vision4D 3.5 Object-based Machine Learning (ML) enables easy and quick classification of Nuclei and Micronuclei based on an array of Morphology, Size, Intensity and Position parameters.​ GPU-accelerated Voxel ML defines the embryo surface.​ Object Style Settings:​ Whole embryo is shown as a Glass Surface.​ Nuclei are shown as Traditional Surfaces​. Micronuclei are represented by Centroids.
Top Features of arivis Vision4D 3.5:

Machine Learning-based processing methods become even more powerful with release 3.5: a completely reworked implementation with optional GPU-acceleration not only brings immense speed improvements for all workstations (compared to previous release 3.4) but also objects-based machine learning. This enables completely new analysis methods for automated detection and segmentation of objects in your 2D and 3D imaging data, no matter if you are an experienced imaging specialist or new user.
With Python scripting and options for several outputs per operation, advanced analysis and processing becomes even more powerful. The improved Compartments module allows even inexperienced users to identify objects inside, in contact or near to another object surface to answer even complex analysis tasks much more easily. The application-centric setup and the integrated definition of expected measurement results help you to focus on your biologically relevant questions.
We further improved the already industry-leading 3D rendering options and performance! Now you can change color, opacity and material properties for whole subsets of objects in one go so it is faster to make your outstanding 3D datasets even more shiny and impressive, for example with the new "Glass" rendering option. Simply change the color, opacity and representation in the viewers, in high-resolution screenshots and movies per object, per tag or globally in a completely new and improved user interface.
Various other improvements include extended integration with arivis VisionHub, our highly scalable solution for management of imaging data, that now enables smooth handling of objects and processing of high-throughput batch analysis. Usability improvements include an easier analysis pipeline design with the new Analysis Home Screen and a simplified, more efficient import of analysis objects into your experiments.
arivis Vision4D 3.5 yet again boosts your scientific imaging research: Visualize, process and get your results as efficiently and comfortable as never before! Scroll down to contact us for a remote demonstration or get your free trial license today!
Existing V4D users with a "Maintenance Contract" license can directly download and install the latest update ("Help" --> "Check for update"). Please make sure that your workstation is connected to the Internet and your Firewall is not blocking the application. If in doubt please contact your administrator or your arivis Imaging Specialist. Detailed technical release notes can be found in our arivis Knowledge Base here.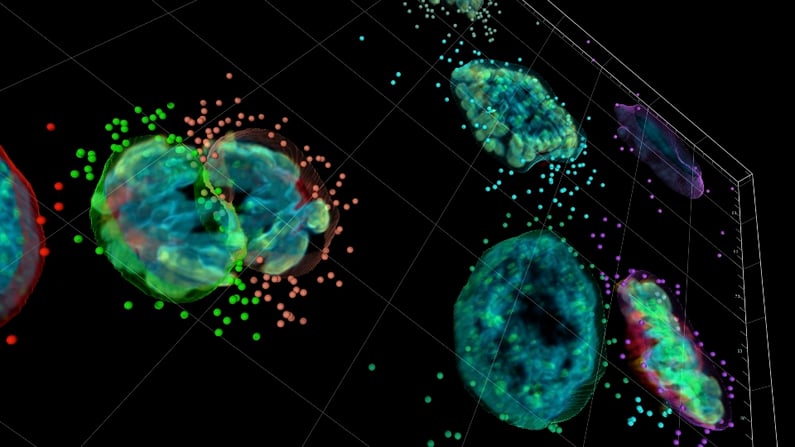 Image created by Uros Krzic, ZEISS Microscopy. Compartments analysis and rendering with arivis Vision4D 3.5. HeLa Kyoto cells, Dyes: DNA - Hoechst 33342, Aurora B - Alexa 488, Phospho Histone H3 - Alexa 568, Tubulin - Alexa 647. Fluorescence imaging with ZEISS Axio Observer, Colibri LED and ApoTome. Deconvolution with ZEISS ZEN Blue.
REQUEST A PERSONAL REMOTE DEMO