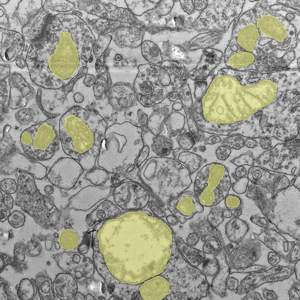 Image courtesy: Original imaging data was kindly provided by Dr. Wendy Bautista, MD PhD, Barrow Neurological Institute, Phoenix Children's Hospital. Hippocampus tissue section, transmission electron microscopy. The objects in yellow are the manually segmented mitochondria from both control and swollen phenotypes.
When preparing for the Deep Learning (DL) training, the critical step is creating the ground-truth annotations. This is often achieved by manually annotating the regions of interest, thereby creating the objects. In total, for this research project, 30 TEM serial sections were used with 309 mitochondria objects, annotated manually with the drawing tool (Vision4D ver. 3.6). Both mitochondria phenotypes, normal and swollen, were pooled into one class for the DL training.
These manual annotations were used to train the Deep Learning model for semantic segmentation, also known as pixel classification. Specifically, we have used the U-net model, with the architecture very similar to the original publication (O. Ronneberger et al., 2016). Prior to the training, the images and the annotations were downscaled two-fold of the raw image size using the bicubic interpolation method to facilitate the DL training time and match the feature size. In the following step, the grayscale images and the binary ground-truth images were augmented by applying rotations, reflections, and elastic transformations. The U-net model was trained with the custom-made script* for 50 epochs and the 42nd epoch had the highest accuracy score and was selected for running the inference (predictions) to segment the mitochondria. During the last training step, the model was converted to the ONNX format to run the inference (predictions) in ZEISS arivis Pro (formerly Vision4D).
*For further details, please contact support@arivis.com