arivis and APEER go ZEISS!
New names, new look – same outstanding performance
Main takeaways:
arivis and APEER will merge into one product family, for a clear and enhanced software offering
Products will receive new names
The rebranding will occur in stages throughout the upcoming year
arivis AG company name will change to Carl Zeiss Microscopy Software Center Rostock GmbH
Christian Götze and Andreas Suchanek will act as Managing Directors


Exciting news! arivis and APEER leading image analysis solutions will come together under the trusted ZEISS brand. From April 2023 on, our advanced image analysis software products will be rebranded and consolidated into the hardware-agnostic 'arivis' family of products. This corresponds to the completion of the acquisition of arivis AG and a change to its company name. The new subsidiary will be called Carl Zeiss Microscopy Software Center Rostock GmbH.
The ZEISS software portfolio has grown from both in-house development (such as APEER) and strategic acquisitions (such as arivis). However, customer feedback revealed that the variety of products may cause confusion. To simplify communication and better serve customers, ZEISS has decided to consolidate all the software products that operate independent of specific hardware or image format under the name 'ZEISS arivis'; thus leveraging the already existing reputation of arivis as advanced image analysis technology.
What will change?
Current arivis products will receive new names:



The Machine Learning & Deep Learning toolkit will be referred to as the arivis AI toolkit, currently available on the ZEISS arivis Cloud and - starting with Vision4D 4.1 - also also as a local annotation and training module for all ZEISS Microscopy software products!
Just as currently possible, trained AI models created with the arivis AI toolkit can be run directly on ZEISS arivis Cloud for analysis, or exported and then used with ZEISS ZEN and other ZEISS arivis software products.


All software products and toolkits will get new desktop visual identifiers. The arivis website has already been updated to a new look and feel to match the ZEISS brand.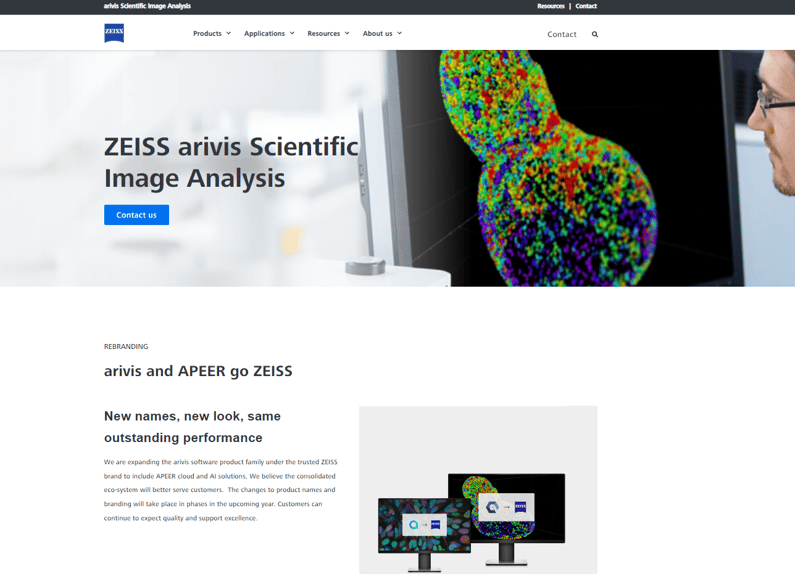 All changes are based on customer feedback and are designed to create clear and concise communication so that users better understand how to make the most of the benefits that ZEISS software can offer. In line with the customer-success-centric strategy at ZEISS, we are committed to providing the most innovative products, and with a user-friendly experience. We believe the new branding will help streamline the software portfolio and make it easier for our users to accomplish diverse and complex microscopy image analysis challenges.
What stays the same?
Users can continue to expect the same quality of products, service and support they are used to. The rebranding under ZEISS arivis will not change the current capabilities of the various software products, toolkits or modules.
What can you expect and when?
The rebranding process is a continuous effort. Changes to the arivis website and customer-facing social media platforms are taking place during April 2023. Changes to the APEER website and cloud application will occur later this year, so will graphical changes to arivis software products such as the user interface design.
Phase 1 – April 2023:
In April 2023 the rebranding of the arivis website will be completed.
Further in April 2023, arivis social media channels (on YouTube, LinkedIn and Twitter) will get a new look to match the ZEISS brand, and will be renamed 'ZEISS arivis". Existing APEER channels and platforms will be merged into the new online presence. The APEER YouTube channel will receive a new look and name to match the ZEISS brand, and will be renamed 'ZEISS arivis Education'. This channel will continue to serve as an educational resource for microscopy researchers who wish to make the most of using AI-driven technologies. Please understand that during the transition, certain discontinued product names, identifiers and so on will still be referred to until full alignment, also to best serve our existing user base with our support offerings. See for example the ZEISS arivis Knowledge Hub.
Phase 2 – June 2023:
We will continue working behind the scenes to reduce any inconsistencies that may occur in various customer touchpoints such as sales documents, brochures, web pages and product guides.
ZEISS arivis Cloud (formerly APEER) and arivis Hub (formerly VisionHub) user interfaces will get a new look and feel to match the ZEISS brand.
Phase 3 – September 2023:
The first visual changes of Vision4D to the ZEISS arivis Pro user interface, such as desktop identifier and splash screen, can be expected in Autumn of 2023*.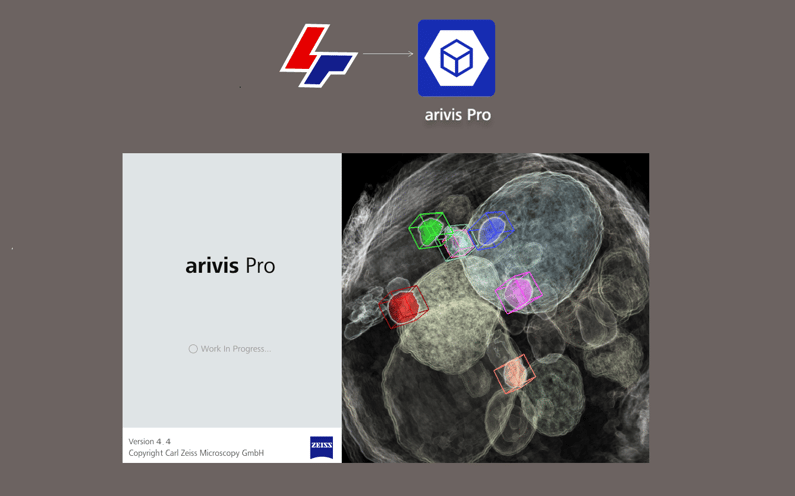 Also in Autumn, ZEISS arivis Cloud - currently situated on the APEER domain - will completely migrate to the arivis.com web domain. Logging into the AI cloud platform and using it through your existing ZEISS ID will remain simple and intuitive. No data or model training will be lost due to the changes.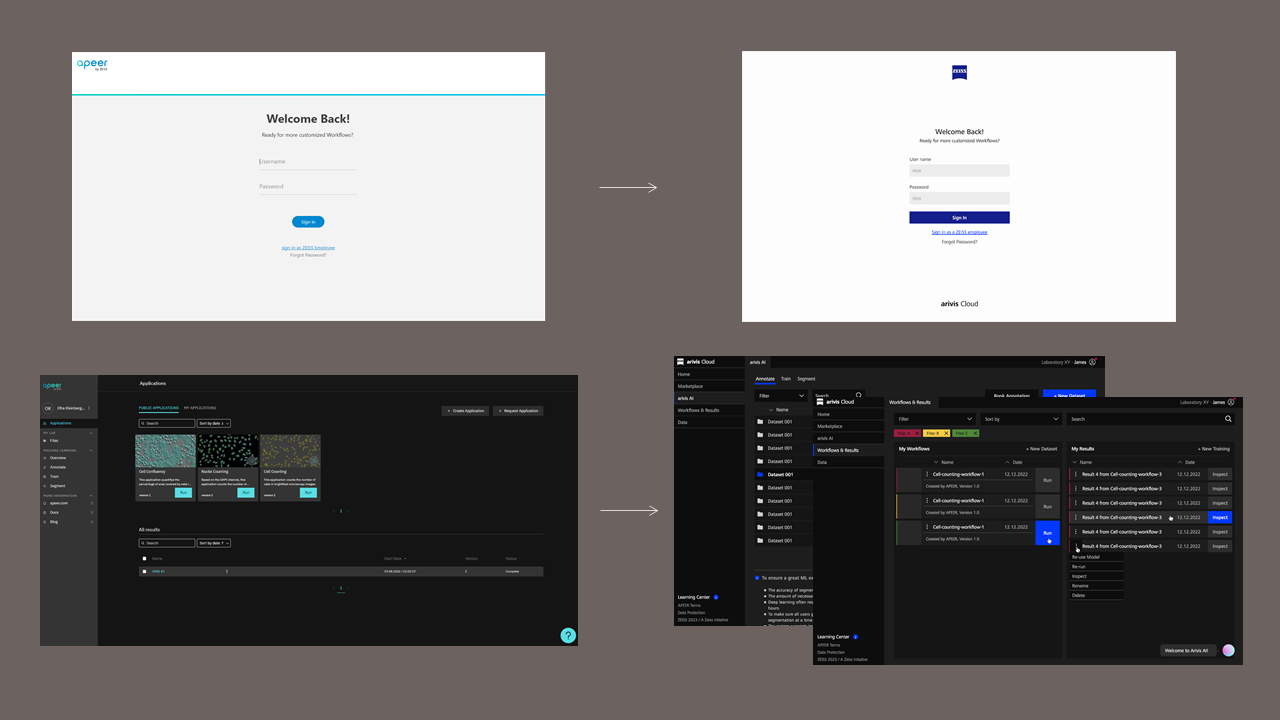 All content from APEER will be redirected to respective pages on the arivis website at this time. Further visual changes to arivis Pro and arivis Hub user interfaces are planned for 2024*.
Continued product development
The collaboration between APEER and arivis teams in software development has reached a new level. Together as one team, we will continue to create innovative features to make it even easier for customers to advance their research using our digital solutions. 2023 is the year of AI technology, and our teams are striving to extend this disruptive technology to scientific image analysis: As easy and intuitive as ChatGPT, as powerful and impressive as DALL-E, with efficient and reliable results that you can trust.
A new company name
As of April 3, 2023, the arivis AG company name has changed to Carl Zeiss Microscopy Software Center Rostock GmbH. The new company is a 100% subsidiary of Carl Zeiss Microscopy GmbH and will continue its operations at Rostock, Germany. Christian Götze and Andreas Suchanek will fill the role of Managing Directors.
Customers can now contact our team at arivis.microscopy@zeiss.com.
Your regular arivis contacts will remain available with their @arivis.com email addresses during 2023 but please begin updating these contact details with new arivis employee email addresses ending in a zeiss.com suffix.
The spirit of innovation will remain in arivis and will be strengthened under the ZEISS brand. We are committed to continue developing advanced software products to help our customers overcome their daily challenges. We are confident that with these changes to streamline the portfolio, our customers will have access to the most cutting-edge technology with an improved user experience to support their research needs. We are excited about this new chapter and will keep you updated regarding the rebranding process.
Thank you for your interest and loyalty. We want to build the most advanced, the most scalable, and the most flexible AI platform for scientific image analysis. We want to grow with the imaging technologies of the future. We want more resolution, more insight, and more results from your precious data in shorter time. We want to support your progress in academia and industry by providing you with the most advanced analysis tools, tailored to your needs, and with the shortest time-to-result. Because we believe as much in you as you believe in us. This is what we work for.
Your partners at ZEISS Microscopy, APEER, and ZEISS arivis. Shaping the future, together.
*) Subject to change until further notice