arivis VisionVR offers you a choice of control options. Even without advanced VR controllers you can utilize Leap Motion(TM) hand tracking to control movement with your hands and finger gestures. If you want to to take advantage of advanced functions, a variety of hand controllers with extremely precise tracking and option buttons is supported. Regardless of control choice, learning to move and interact with data is an intuitive process with a short learning curve. arivis VisionVR also provides the possibility to enable/disable tools and gestures to match the skill level or use case of the end-user.
VR menus, including context-sensitive help, have been designed to allow full control of all operations and tools while in the VR space to provide a seamless user experience. Users can interact with menus or VR objects (segments, measurements, and markers) by laser pointing at them or reaching out to touch them in VR space. Menus are designed to have a consistent layout and consistent placement to allow easy use.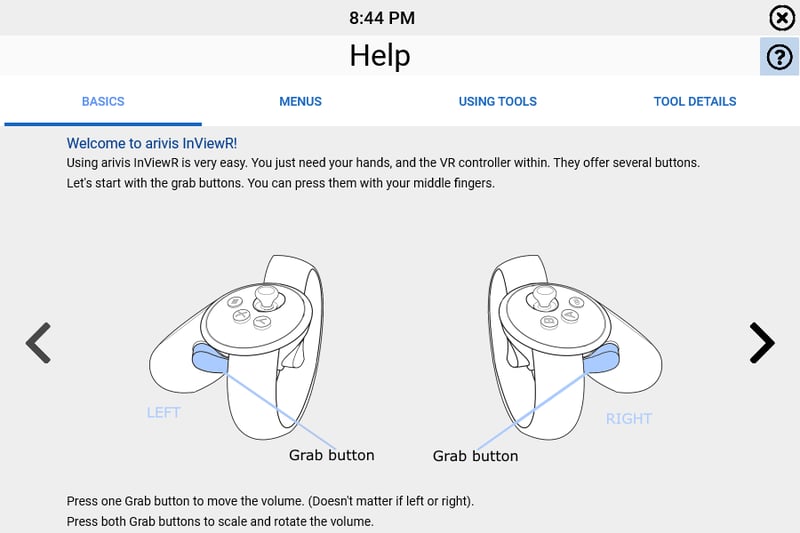 All functions to interact with image data are located in one unobtrusive menu that sticks to one hand and is always accessible. Icons on the controller in VR clearly indicate what tool is in use and what mode the tool is currently in. In tool-specific menus, designed for each tool, users can adjust tool properties and find out additional information about their data seamlessly while working in VR space. It also allows users to globally toggle visibility on and off for clipping planes, measurements, markers, overlays and segments and enables to skip along the time dimension of their data.
The main menu provides all the necessary controls to work in VR space once a user has loaded a dataset. The arivis VisionVR main menu provides full control over the virtual room, rendering settings, tools, and the properties of all measurements, markers, overlays, and segments. It is also possible to change menu themes her or switch between light and dark modes.