Start your overnight image acquisition, and let arivis prepare your data for immediate visualization as soon as your experiment has completed. The arivis SIS Converter Pro does all the work for you!

This standalone module operates independently from your arivis Vision4D license, allowing for standalone file conversion. Automatically convert every 3D / 4D image data set into the arivis SIS format as fast as you can save files from your acquisition system.

You can monitor multiple source data folders and create your custom rules for automatic conversion without any programming knowledge using the powerful "watchdog" interface. arivis SIS Converter Pro monitors specified folder locations at regular or custom defined intervals.
A simple UI with intelligent pattern matching allows for easy setup and handling. You can add time points, channels, or planes to form new multidimensional sis.files, or add them to existing sis.files.
Unattended automatic file conversion and import
Time point by time point, plane by plane or channel by channel raw file conversion directly into SIS format
Automatically add newly generated images to existing .sis files
Multiple configurable import sources for file conversion
Faster and automatic file conversion process from image acquisition to SIS format and thus shorter time to results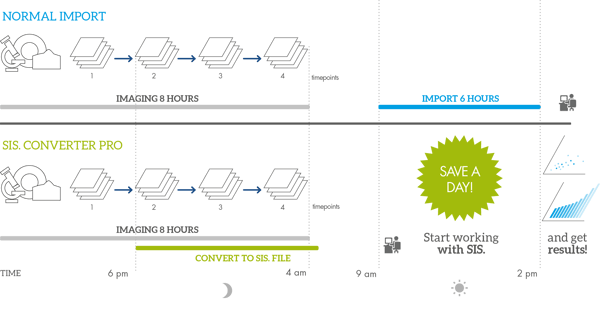 Until now image acquisition had to finish before manually starting the conversion into the SIS format. The .sis file brings interactive and fast handling and analysis of huge multidimensional 2D/3D/4D image data with arivis Vision4D (top Workflow).

Now with the new arivis SIS Converter Pro, the file conversion can start as soon as the first time point is generated, and it will automatically monitor source folders at regular intervals for new files (watchdog functionality).

The result is a ready-to-use .sis file as soon as acquisition is finished. Now you can start to visualize and work on image analysis immediately after acquisition, with faster results than ever before.